The United States sent three (3) beach volleyball teams, 18U Girls, 16U Girls and 18U Boys, of AAU members to Normandy to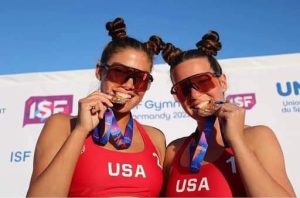 compete for gold.
The Girls 18U AAU/USA team captured Gold.
Ensley Alden (Carlsbad, Calif.) and Taylor Hagenah (Oceanside, Calif.) kept AAU/USA's winning streak alive. Alden and Hagenah captured the gold medal, the third straight gold medal for the AAU/USA delegation in ISF world events (2017, 2019, 2022).
More than 2,200 athletes, and a combined 3,191 total participants, from 67 countries arrived in Normandy for the 19th ISF Gymnasiade. The AAU/USA delegation sent approximately 74 participants across the world for this one-of-a-kind opportunity.
READ MORE.
AAU sent athletes competing in seven (7) of the sports being played at the ISF Gymnasiade: archery, beach volleyball, dance, fencing, swimming, table tennis, and wrestling.