ORLANDO, Fla. (June 7, 2022)
— Since 2016,
AAU
Gymnastics has been dedicated to giving back and making a difference in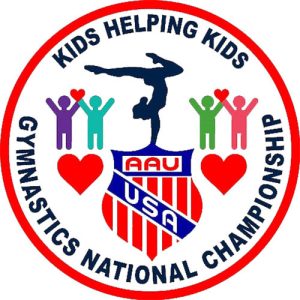 the world. The
AAU
Gymnastics Kids Helping Kids charity provides all of
AAU
Gymnastics a way to show their support and help out in the community. This year, through the Kids Helping Kids charity program,
AAU
Gymnastics is proud to support Compass for Kids.
Compass for Kids is an organization whose mission seeks to provide academic and social-emotional support to empower children and families who have been underserved by the community. Compass for Kids works hard to educate the children and help them grow as individuals in life. The mission is to help the children understand that social, emotional, and life skills are essential to overall well-being and academic success.
AAU Gymnastics supports the efforts of Compass for Kids and will work hand in hand to help provide a positive atmosphere for these children. This year, gymnasts and their teammates will be donating book bags with school supplies, a team picture, and a handmade card with a message of encouragement to a child that will receive the bag.
These bags will be on display at each AAU Gymnastics club's gym so that the clubs can collect small change to make a big change in someone's life. Each participating club will then bring their bookbag, cards, and any funds to the AAU National Championships where they will be displayed at the Kids Helping Kids booth.
"I wanted to create a program where they [young gymnasts] understand that 'no act of kindness, no matter how small is ever wasted.' I live by those words," says Liz Nichols, AAU Gymnastics National Chair. "I simply wanted the gymnasts to understand that they could make a difference. Giving back and paying it forward is very important for me so having the AAU platform to establish the program has been incredible."
Liz Nichols first started the AAU Gymnastics Kids Helping Kids in conjunction with AAU Cares in 2016. Each year since, AAU Gymnastics selects a charity to support where gymnasts and clubs can collect "small change to make a big change."
"I emphasize it does not matter the amount because every donation counts and makes a difference," Nichols added. "These funds will support Compass for Kids Summer Programming and help provide school supplies that they might not otherwise have easy access to. Things that we all just take for granted."
Some of the charities that AAU Gymnastics has supported in the past years include: St. Jude, Together We Rise – supporting foster children, FRIENDS – Down Syndrome Organization, Girls on the Run, and Ketia for Kids – supporting children of the military. AAU Gymnastics has sent many children to summer camps with these donations, and they have raised and donated over $38,000 to these organizations through Kids Helping Kids.
"I am very proud of the program and how our
AAU
gymnasts, clubs, coaches and families have supported the program through our
AAU
Gymnastics National Championship. They have made a difference! Of that I am sure!"
AAU will be selling the national commemorative pin at this year's AAU Gymnastics National Championship, with 100 percent of the proceeds going to charity. The AAU Gymnastics National Championship will take place from June 28 to July 3, 2022 in Springfield, Illinois.
For more information about Compass for Kids, visit compassforkids.org. To learn more about AAU Gymnastics, visit aaugymnastics.org. For all of the details for the 2022 AAU Gymnastics National Championship, click here.