The collaboration will see AAU and ISF work together to bring new events to the United States each year beginning in 2024
ORLANDO, Fla. (January 30, 2023)
— The Amateur Athletic Union (AAU) and International School Sport Federation (ISF) are proud to announce a new collaboration with the intent to establish a global multi-sports event program for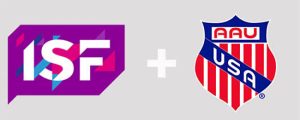 youth annually.
The two entities are exploring a collaboration that will see ISF and AAU work together to host events for athletes under the age of 15 years old from across the globe. The goal is to start hosting events sometime in 2024 in Orlando, Florida, USA.
ISF, based in Belgium, is an international non-profit sport organization recognized by the International Olympic Committee (IOC) to organize world school championships for youth ages 6 to 18 years old. The organization's mission is to promote among young people mutual understanding, volunteerism, empowerment, peace, non-discrimination, healthy lifestyles, social inclusion, and gender equality. ISF currently consists of 132 member countries from five (5) continents representing countries from Africa, Europe, Oceania, America, and Asia.
"ISF and AAU will combine our extensive youth sports expertise to put on unique events for international athletes that foster and Olympic spirit," said J.B. (Jo) Mirza, AAU President. "Orlando, the home of AAU, provides an enticing location to host these events. As the most visited destination in the United States, there are plenty of activities and attractions for athletes and their families to enjoy."
AAU and ISF are committed to an initial objective of 5,000 to 10,000 athletes participating in the inaugural year of the program. The organizations will work to create an unparalleled event experience that promotes physical fitness, offers competitive opportunities, and provides a cultural experience for athletes, parents, and volunteers to foster a new camaraderie with people from numerous countries.
"The collaboration between AAU and ISF is a unique opportunity to share expertise and to combine efforts for Global youth sport promotion and strengthening Olympics values." said Laurent Petrynka ISF President.
—
About ISF
:
Founded in 1972, the International School Sport Federation (ISF) is an international non-profit sport organization, acting as the umbrella organization and governing body for national school sport organizations around the world, organizing sport, and educational events for youth from 6 to 18 years old.
Recognized by the International Olympic Committee (IOC) since 1995, the ISF currently consists of 132 members over the five continents organizing over 10 events per year and has more than 30 different sports included in its competition program. Key vision of ISF, A world where sport and education provide opportunities for all students to empower themselves to become active citizens and to foster healthier communities. For more information: https://www.isfsports.org
About AAU:
The Amateur Athletic Union (AAU) is one of the largest, non-profit, volunteer sports organizations in the United States. As a multi-sport organization, the AAU is dedicated exclusively to the promotion and development of amateur sports programs. Founded in 1888 to establish standards and uniformity in sports, the AAU philosophy of "Sports For All, Forever" is now shared by more than 720,000 members and 150,000 volunteers across 45 sports programs. The largest sport in the AAU, volleyball, has approximately 230,000 members annually. Other AAU sports programs include basketball, track and field, wrestling, swimming, diving, football, gymnastics, karate, taekwondo and hockey. For more, visit www.aausports.org