ORLANDO, Fla. (November 2, 2022) — Both the 49th AAU Junior National Volleyball Championships and 56th AAU Junior Olympic Games were honored as 2022 Champions of Economic Impact in Sports Tourism by Sports Destination Management.
Sports Destination Management is the leading publication with the largest circulation of sports event planners and tournament directors in the sports tourism market.
49th AAU Junior National Volleyball Championships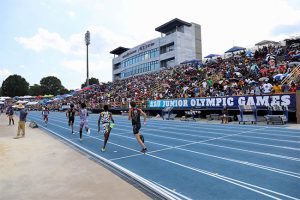 More than 70,000 athletes and coaches, representing 48 states, two U.S. territories, and four international countries converged at the Orange County Convention Center (OCCC) for the 49th AAU Junior National Volleyball Championships this year.
The 18-day event brought in approximately $228 million in economic impact to Central Florida, with an estimated 178,000 total attendees. Thousands of jobs and the overall local economy is positively lifted by this event annually — from hotels, shops and restaurants to area theme parks and attractions. There were 4,450 teams (678 boys and 3772 girls) participating in 56 divisions. It's the largest sporting event ever held at the OCCC —breaking last year's record.
The AAU Junior Olympic Games is the largest multi-sport event for youth in the United States. This year's 56th edition, held in Greensboro, North Carolina, brought in nearly 19,000 participants with an estimated economic impact of $65 million. The 56th AAU Junior Olympic Games featured 12 different sports competitions, including AAU's marquee track and field event at NC A&T's Marcus T. Johnson Track in Truist Stadium. Track and field, the biggest sport at the Games, saw approximately 14,000 participants.

The AAU is proud to say that both events have received this honor for the past five years.
All award-winners have been recognized in a special feature published in the November/December 2022 issue of Sports Destination Management. In total, this year's winners are responsible for contributing more than $2.42 billion to the national economy over the past year. The entire article with full details on the winners listed can be found here.